Andre Drummond Calls Out Pistons for Lack of Notice Before Trade to Cavaliers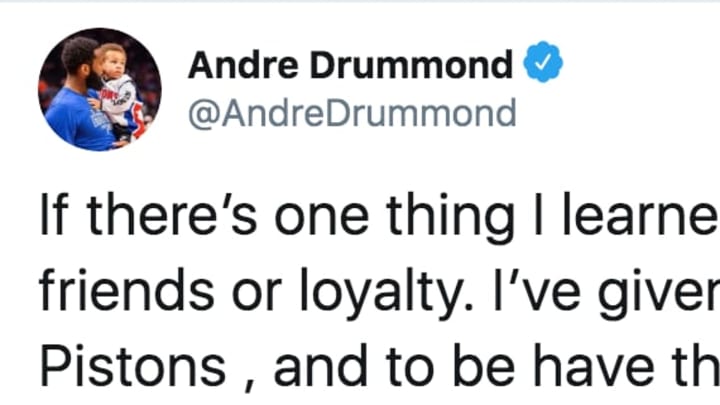 Andre Drummond calls out Pistons after trade to Cavaliers /
The NBA is a business, and Andre Drummond found that out the hard way.
Dre was traded to the Cleveland Cavaliers at the NBA Trade Deadline for spare parts. Drummond was the subject of rumors for months, but evidently that talk didn't reach the now-former Pistons big man.
Drummond needs to start following Woj and Shams on Twitter ASAP. Had he done so, there's no way he would've gone longer than, say, three days without seeing his name mentioned.
Such a trade makes very little sense from either side. The Pistons wanted to ensure they got something for Drummond while they still had the chance, but a future second-round pick and a couple of expiring deals don't necessarily speed up their looming rebuild. The Cavaliers deem Drummond's timeline applicable with their young assets, but his potential free agency plans could throw a wrench in this entire move.
Drummond's time in Detroit brought with it zero playoff victories. Now, he joins a team arguably far away from playoff success itself. We don't blame him for questioning the state of things.