Giannis Antetokounmpo Becomes Victim of NSFW Twitter Hack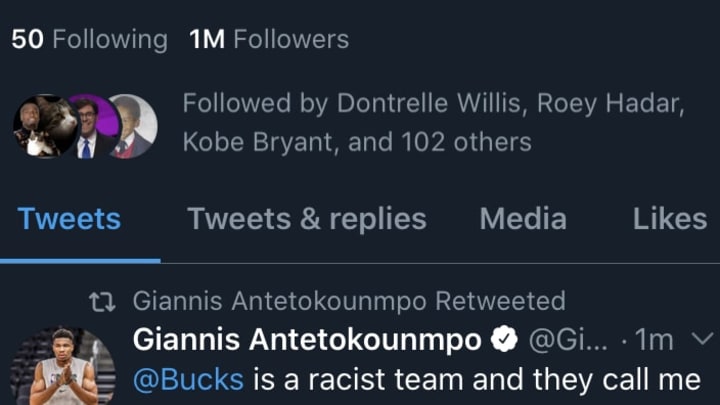 Someone hacked into Giannia Antetokounmpo's Twitter account on Thursday. /
Right now, Milwaukee Bucks star Giannis Antetokounmpo is supposed to be focusing on his return to NBA action and using his downtime to bond with his newborn son. But, his Thursday afternoon was ruined on social media.
A hacker got a hold of Antetokounmpo's Twitter account, and sent out some rather distasteful messages in the span of minutes. Be warned: many of the messages are crude, profane, and not safe for work.
The Greek Freak's agent would confirm that his account was hacked, which we could pretty easily tell.
Of course, the worst parts of this hack were the various racialized comments that were sent out for Antetokounmpo's one million followers to see. That, and the spineless hacker took shots at LeBron James and the recently departed Kobe Bryant.
Additionally, the user claiming to be Giannis said he contracted coronavirus and he wants to join the Golden State Warriors to send everyone on Twitter into a tizzy. Of course, this all isn't true.
Unfortunately, this is a common occurrence for high-profile athletes. Someone gets a hold of their IP address and ultimately gets access to their passwords and wreak havoc. This is fun for them, which makes their lives pretty damn sad.
With all that's going on in the world today, Antetokounmpo has to spend his Thursday afternoon talking with Twitter headquarters and changing all of his passwords. We don't wish that pain on anyone.